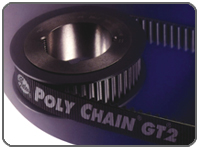 The toughest belt on the market, polychain GT belts performs flawlessly under the hardest operating conditions.

It has armide fiberglass tensile and fabric covering the teeth is highly resistant to Oils, Chemicals Corrosion and Abrasion.
It is made of light weight polyurethane compound.
The belt teeth and body are made of a light weight polyurethane compound ,specially
blended for adhesion to the cords and fabric. This uniquely formulated polyurethane
make the bel tough and virtually immune to abrasion and chemicals
the aramid tensile provide extraordinary power carrying capacity.